Posted by
BCG
on Feb 6th, 2014 in
Firm Profile
|
Comments Off

on Firm Profile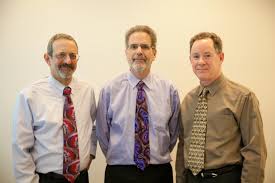 Bogatin, Corman & Gold is a law firm unique for its variety of practice areas, breadth of perspective and depth of experience. We have established expertise in entertainment and intellectual property law, a wealth of experience in labor and employment law, and active practices in commercial litigation and personal injury. We provide legal counseling and litigation services to a diverse cross-section of clients including creative artists, persons involved in employment disputes, entrepreneurs and companies. While the three founding partners, M.J. Bogatin, William Corman, and Andrew Gold have different areas of emphasis, our distinctive combination of skills and backgrounds allows us to provide our clients with comprehensive service in a broad array of matters. In 2016, Andrew Gold withdrew from the partnership, but he remains "of counsel" to the firm.
Before coming together as partners in 1995, we each practiced for many years in a variety of settings, honing our individual skills as attorneys. M.J. Bogatin has an outstanding reputation as a representative of hundreds of local and internationally recognized performers, artists and writers. William Corman is a nationally known labor and employment law advocate who has represented thousands of clients with employment-related claims in trial and appellate court proceedings. Andrew Gold combines his years of experience as a "big firm" commercial litigator with his arts and entertainment background to provide valuable counsel and advocacy for an eclectic mix of intellectual property and commercial clients.
Because of the diversity of our practice, we provide a broad array of counsel to our clients in a variety of matters. For example, a client having an employment contract problem may also have questions about intellectual property issues. A multi-media business client may want advice about its employee personnel policies. An artist client may have suffered bodily injuries as a result of a vehicle collision or other accident. BCG is experienced in providing counsel in all these areas.
As a firm, we are committed to remaining small in size and personally accessible to our clients. We know from experience that a direct "hands-on" approach with our clients allows us to best understand them and their needs. We pride ourselves on providing services that are sensitive to both our clients' legal requirements and their economic circumstances.
In February 2001, after many years in San Francisco, we relocated our main office to downtown Oakland. We invite you to contact us to see if we can assist you with your legal needs.