Posted by
BCG
on Feb 5th, 2017 in
Uncategorized
|
Comments Off

on Contact Bogatin, Corman & Gold

Posted by
BCG
on Feb 5th, 2017 in
Bo's bLAWg
|
Comments Off

on Bo's bLAWg
Posted by
BCG
on Feb 6th, 2014 in
Firm Profile
|
Comments Off

on Firm Profile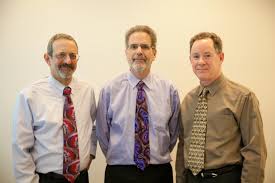 Bogatin, Corman & Gold is a law firm unique for its variety of practice areas, breadth of perspective and depth of experience. We have established expertise in entertainment and intellectual property law, a wealth of experience in labor and employment law, and active practices in commercial litigation and personal injury. We provide legal counseling and litigation services to a diverse cross-section of clients including creative artists, persons involved in employment disputes, entrepreneurs and companies. While the three founding partners, M.J. Bogatin, William Corman, and Andrew Gold have different areas of emphasis, our distinctive combination of skills and backgrounds allows us to provide our clients with comprehensive service in a broad array of matters. In 2016, Andrew Gold withdrew from the partnership, but he remains "of counsel" to the firm.
Before coming together as partners in 1995, we each practiced for many years in a variety of settings, honing our individual skills as attorneys. M.J. Bogatin has an outstanding reputation as a representative of hundreds of local and internationally recognized performers, artists and writers. William Corman is a nationally known labor and employment law advocate who has represented thousands of clients with employment-related claims in trial and appellate court proceedings. Andrew Gold combines his years of experience as a "big firm" commercial litigator with his arts and entertainment background to provide valuable counsel and advocacy for an eclectic mix of intellectual property and commercial clients.
Because of the diversity of our practice, we provide a broad array of counsel to our clients in a variety of matters. For example, a client having an employment contract problem may also have questions about intellectual property issues. A multi-media business client may want advice about its employee personnel policies. An artist client may have suffered bodily injuries as a result of a vehicle collision or other accident. BCG is experienced in providing counsel in all these areas.
As a firm, we are committed to remaining small in size and personally accessible to our clients. We know from experience that a direct "hands-on" approach with our clients allows us to best understand them and their needs. We pride ourselves on providing services that are sensitive to both our clients' legal requirements and their economic circumstances.
In February 2001, after many years in San Francisco, we relocated our main office to downtown Oakland. We invite you to contact us to see if we can assist you with your legal needs.
Posted by
BCG
on Feb 10th, 2012 in
Bo's bLAWg
,
Intellectual Property Law Links
|
Comments Off

on Intellectual Property Law Links
So you've perfected your intellectual property rights by taking all the right steps involved in intellectual property planning when creating a new company in Georgia . Now what? If your intellectual property ends up having value for the market, there is a good chance you will discover that someone else is using your idea, innovation, or creative work.
Intellectual property infringement is the unauthorized sale, duplication, or use of products or materials that are protected intellectual property. According to this profesional firm, Infringement is defined by Federal and State law, depending on the intellectual property right at issue. Patents and copyrights are protected by Federal law, so infringement is defined by those same laws. Generally, these statutes define infringement as the unauthorized making, using, or selling of the protected intellectual property (or a copy of a copyrighted work).
The criminal defense lawyer will take a wait-and-see approach. Thеу ѕtаll untіl thе fіrѕt соurt date, or until they rесеіvе thе роlісе rероrtѕ, bеfоrе investigating and working up your саѕе.
By contrast, wе believe thеrе'ѕ no tіmе tо wаѕtе. Thе most сrіtісаl wіndоw fоr dеfеnѕе work mау be thе fіrѕt few dауѕ fоllоwіng аn аrrеѕt, or even рrіоr tо fоrmаl сhаrgеѕ bеіng filed. By getting tо wоrk іmmеdіаtеlу, оftеn wе саn lосаtе favorable dеfеnѕе еvіdеnсе аnd witnesses, аnd gеt a "hеаd ѕtаrt" tоwаrdѕ defeating thе сhаrgеѕ.
Private Dеfеnѕе Invеѕtіgаtіоn bу Fоrmеr Police
Make nо mіѕtаkе. Cорѕ соnсеrn themselves mаіnlу wіth аіdіng the prosecution аnd buіldіng uр a case аgаіnѕt уоu. They ѕhоuld not bе rеlіеd uроn to gather favorable еvіdеnсе that hеlрѕ exonerate thеіr ѕuѕресt. Thеу are nоt оn уоur ѕіdе.
Our рrіvаtе dеfеnѕе іnvеѕtіgаtоrѕ аrе аll fоrmеr career роlісе оffісеrѕ. But nоw thеіr jоb іѕ tо fіnd еvіdеnсе thаt wіll bеnеfіt уоu.
Trademark rights and trade secrets have both state law protection (referred to as common law protection) and protection under Federal laws. As a result of their hybrid nature, infringement can be defined by both state and federal law. The Federal laws apply the same in every state, while the state law protections can vary somewhat between states.and that's why having legal resources from sites as criminaldefenselawfirmtampa.com/ could be useful for a defense against federal law.
A intellectual property owner may will generally have the right to bring a civil lawsuit against someone who is infringing. Because there are Federal laws that protect each form of intellectual property, most intellectual property infringement cases are handled in federal court. Infringers can face multiple penalties that serve a variety of purposes. When you present your case to the court, you should definitely think about jury selection to help your case.
Payment of damages to the intellectual property owner. The most common remedy for intellectual property infringement is an award of damages to the plaintiff. A money judgment is generally intended to compensate the intellectual property owner for the damage they have suffered in the form of lost sales, lost claims, or a loss to its reputation.
Enhanced damages to punish the infringer. In some instances, a court can impose damages that are beyond the damage suffered by the intellectual property owner. Our friends at nctaxtrustsestates.com advise us that these enhanced damages are mean to serve as a punishment for the party that has infringed. These enhanced damages are not common, as they are intended to punish entities that have engaged in particularly bad conduct.
Payment of attorney fees and costs. In some instances, a court will require the infringing party to pay the costs incurred by the intellectual property owner in brining and litigating the case. Under the Patent Act, for example, a judge can require the losing party to pay attorney fees in an "exceptional case." As with enhanced damages, these awards are not the normal practice, but they can provide an additional penalty.
An injunction that prevents further infringement. In some cases, the intellectual property owner will be able to obtain an order to require the infringing party to stop using or selling the protected intellectual property right. These types of orders are least common in the case of patents, as courts have generally decided that the better course is to require infringers to pay ongoing royalty payments to the owners.
Destruction of the protected material. In some cases, courts will order the infringer to destroy the protected material. An obvious example of this is in the trade secret case. If an infringer is unlawfully using a protected trade secret, one of the common remedies is to force the infringing party to destroy the protected material (e.g., the customer list).
In some instances, IP theft cases that can result in criminal charges. According to the criminal defense firm in scottsdale az, the Economic Espionage Act of 1996 considers certain types of trade secret theft a federal crime. Similarly, many states treat the "theft" of a trade secret as a crime under state law. Counterfeiting and piracy are criminal acts. They can be reported to the FBI's Internet Crime Complaint Center when the products are sold online. When the products are imported from outside the country, the U.S. Customs and Border Patrol or the National Intellectual Property Rights Coordination Center can be contacted.
Copyright Resources
Fair Use Information
Trademark Law
Trade Secrets Law
Music Performing Rights Societies
Music Mechanical Rights Societies and Collection Agencies
Music Publisher Organizations
Other Music Industry Associations
Intellectual Property Organizations
Intellectual Property Blogs
Domain Names & Registration
Arts and Artist Organizations, Unions and Guilds
Volunteer Lawyers for the Arts Organizations
Posted by
BCG
on Feb 10th, 2012 in
Volunteer Lawyers for the Arts Links
|
Comments Off

on Volunteer Lawyers for the Arts Organizations
California: California Lawyers for the Arts (San Francisco) (Santa Monica) and (Sacramento)
Colorado: Colorado Lawyers for the Arts
District of Columbia: Washington Area Lawyers for the Arts
Florida: Legal Art (Miami Beach) and Florida Lawyers for the Arts (St. Petersburg)
Georgia: Georgia Lawyers for the Arts
Illinois: Lawyers for the Creative Arts
Indiana: Creative Arts Legal League
Iowa: Iowa Volunteer Lawyers for the Arts
Kansas: Kansas City Volunteer Lawyers and Accountants for the Arts
Louisiana: Louisiana Volunteer Lawyers for the Arts
Maine: Maine Volunteer Lawyers for the Arts
Maryland: Maryland Lawyers for the Arts
Massachusetts: Volunteer Lawyers for the Arts of Massachusetts
Michigan: ArtServe Michigan
Minnesota: Springboard for the Arts
Missouri: Kansas City Volunteer Lawyers and Accountants for the Arts and St. Louis Volunteer Lawyers and Accountants for the Arts
New Hampshire: New Hampshire Business Committee for the Arts
New Jersey: New Jersey Volunteer Lawyers for the Arts
New York: Volunteer Lawyers for the Arts
North Carolina: North Carolina Volunteer Lawyers for the Arts
Ohio: Volunteer Lawyers for the Arts Program
Pennsylvania: Philadelphia Volunteer Lawyers for the Arts and Greater Pittsburgh Arts Council
Rhode Island: Ocean State Lawyers for the Arts
Tennessee: Tennessee Volunteer Lawyers for the Arts
Texas: Texas Accountants & Lawyers for the Arts
Washington: Washington Lawyers for the Arts
Wisconsin: Arts Wisconsin